I flopped down on the bed and breathed a sigh from deep within. Turning my head, I glanced at the clock and saw that it was 10pm. Two hours! It took two hours to get my kids to bed!
After a long day, I was looking forward to relaxing by reading for a while before I went to sleep. Is that too much to ask? During those two hours of battling over bedtime, I had became increasingly impatient and was not the least bit kind. As I laid there, my frustration started to wane and I began to feel the conviction of sin.
Frustration with myself and my struggles with impatience mounted. Will I ever improve? How long will a believer struggle with a particular sin before seeing progress?
I opened my Bible to Nehemiah. My pastor has been preaching through the book and I remembered a quote from the previous Sunday. The first of Martin Luther's 95 theses says,"The entire life of believers is one of repentance."
Our journey in faith is a continual cycle of sin, conviction, repentance, forgiveness, and humble gratitude. Paradoxically, it seems that the longer one is in the faith, the more their sin comes to light. To the outside world, a Christian will evidence change and growth. But from the Christian's perspective, of looking from the inside out, sin seems to become increasingly abundant.
When Moses came near God, he was told to take off his sandals, for he was standing on holy ground. The closer and closer we get to God in our faith, the more we see His glory and our sin in contrast. We become increasingly aware of just how sinful we really are compared to the majesty and glory of God. That is why the apostle Paul, during the course of his ministry, could go from saying he was the least of all the apostles (1 Corinthians 15:9), to the least of all God's people (Ephesians 3:8), to the worst of all sinners (1 Timothy 1:15).
One of my favorite passages in Nehemiah comes from chapter 8:
"The Levites—Jeshua, Bani, Sherebiah, Jamin, Akkub, Shabbethai, Hodiah, Maaseiah, Kelita, Azariah, Jozabad, Hanan and Pelaiah—instructed the people in the Law while the people were standing there. They read from the Book of the Law of God, making it clear and giving the meaning so that the people could understand what was being read. Then Nehemiah the governor, Ezra the priest and scribe, and the Levites who were instructing the people said to them all, "This day is sacred to the Lord your God. Do not mourn or weep." For all the people had been weeping as they listened to the words of the Law. Nehemiah said, "Go and enjoy choice food and sweet drinks, and send some to those who have nothing prepared. This day is sacred to our Lord. Do not grieve, for the joy of the Lord is your strength." The Levites calmed all the people, saying, "Be still, for this is a sacred day. Do not grieve." Then all the people went away to eat and drink, to send portions of food and to celebrate with great joy, because they now understood the words that had been made known to them."  (7-12)
Following that stressful evening with my kids, my guilt bore heavy on my heart. I felt the weight of my sin. In Nehemiah, the Israelites had heard the law read to them and came face to face with their sin. They realized just how far they had fallen. They also felt their guilt and grieved over their sin.
Our sin should drive us to repentance and to the cleansing grace found at the cross of Christ. We don't have to carry the weight of guilt. We don't have to beat ourselves up over it or buckle down and try harder not to sin. Rather, we rejoice in the grace of God. As the old hymn goes, "Our hope is found in nothing less, than Jesus' blood and righteousness." 
"The better you know Him, the more you will know the joy of ongoing repentance. Repentance puts you more closely in touch with Him and more fully releases His life through yours." Larry Crabb in 66 Love Letters
My impatience with my kids is an ongoing struggle for me. The apostle Paul had his own ongoing battles with sin. He expressed this frustration in Romans, "I do not understand what I do. For what I want to do I do not do, but what I hate I do." (7:15) He concluded by saying, "What a wretched man I am! Who will rescue me from this body of death? Thanks be to God—through Jesus Christ our Lord!" (Romans 7:24,25)
That's it! Our sin shows us our continual need for the cleansing blood of Christ. We do not need to grieve, instead we can rejoice. Just like the Israelites, we can party! We can live a life of thanksgiving–for though we are more sinful than we ever thought, we are also more loved and more forgiven than we will ever realize.
Until that final day, my kids will continue to disobey, and I will continue to battle impatience. I will also continue to live out this cycle of repentance until that last day arrives. But thanks be to God, through Jesus Christ our Lord who has rescued me from this body of death!
So, who wants to party with me?
Linking up with: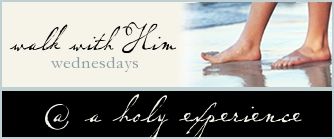 And Word Filled Wednesday and Intentional.Me